Define the colour 'blue'. You could go with the accepted definition of 'blue' in the dictionary, which goes something like this: (adjective) Of a colour intermediate between green and violet, as of the sky or sea on a sunny day. Or you could simply say: 'Maldives.' The waters glisten in more shades of blue than god intended, as our seaplane swoops down on Niyama Private Islands Maldives, an island-resort located at Dhaalu atoll, a 45-minute journey away from Male, the capital of the Maldives. Dubbed as nature's playground, as soon as we land in this all-luxe paradise, the dichotomy of the holiday hits us. The property is, in effect, a combination of two islands—one named Chill, and the other named Play. You can choose to vegetate, flop, wander. Or sprint, cycle, kayak.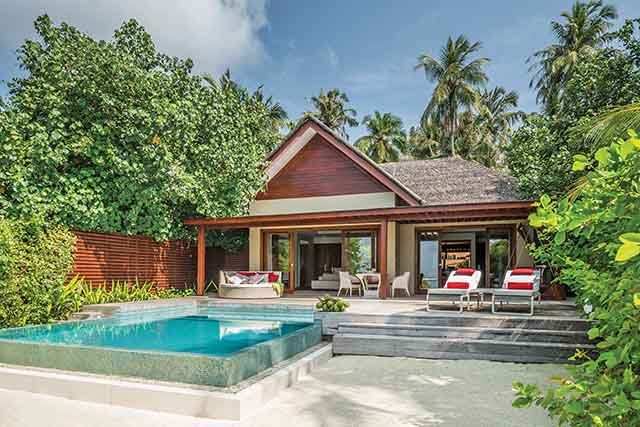 Right from the moment you are received by your personal thakuru (butler) and taken to your dwellings, in this case, a palatial 255-square-meter family beach suite with a pool, you know you've chosen right. Walk into the living room, adjoining a lush bedroom, and al fresco bathing with a soaking tub and the choice of indoor and outdoor rain showers cocooned by virgin palm fronds. Waiting for you inside is more, namely a popcorn-maker, coffee maker, a refrigerator full of sweet and savory treats, and surround-sound home entertainment, but it is the patio's private plunge pool and dhoni swing that will keep you lounging till time stops moving. Ahead lies the crystal lagoon, just two steps away, with seashells, soft sands, and the promise of a full evening of proving to the world that you were born to be a beach bum.
A collection of 134 studios, suites, and pavilions spread out over the two islands offer luxury, tranquillity, and a sense of absolute ease. Smartphones allowed only to snap selfies. Each detail is thought out for you to help you settle down in the serene oasis: cycles (the island's only mode of transport apart from your thakuru's on-call cart) with your name tag are parked outside the door, smart waterproof key bands are given on arrival, beach sandals placed outside the door, snorkeling gear, torch, sunscreen, mosquito repellent in the cupboard, and fresh ice cream is replaced each night in the fridge. Since the World Cup fever was on at that point, we were given match schedule printouts by our thakuru every evening.
Happy to report that not a single match was watched because who in their right minds would tear their eyes off from the beauty that is the Maldives. Our appetite though was thoroughly whetted by the glorious fare available.